Diesel Generators | World-Class Products & Maintenance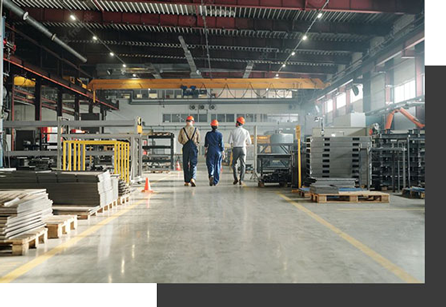 Welcome to Saccal Company
ABOUT US
From Diesel Generators to Peace-of-mind.
SACCAL Group was founded in 1944 and originally concentrated its activities in the electric power generation and conversion industry. Since its initial inception, SACCAL which is now headed by CEO Mr.Maher Saccal has grown into a multifaceted private company, under the name SACCAL HOLDING S.A.L which branched out into serving a number of different sectors: Power Generation, Maintenance and After Sales Service, Power Plants, General Contracting, International Operations, Facility Management, and Power Conversion.
» SACCAL Industries S.A.L.
» SACCAL Sigma S.A.R.L.
» SACCAL Enterprises S.A.L.
» SACCAL Facility Management S.A.L.
» SACCAL Off-Shore S.A.L.
ISO CERTIFIED
Not only our diesel generators, but our manufacturing process is ISO 9001 Compliant.
From our handmade parts to our automated process. We strive to only provide our clients with the highest quality products and World-Class after sales & maintenance support.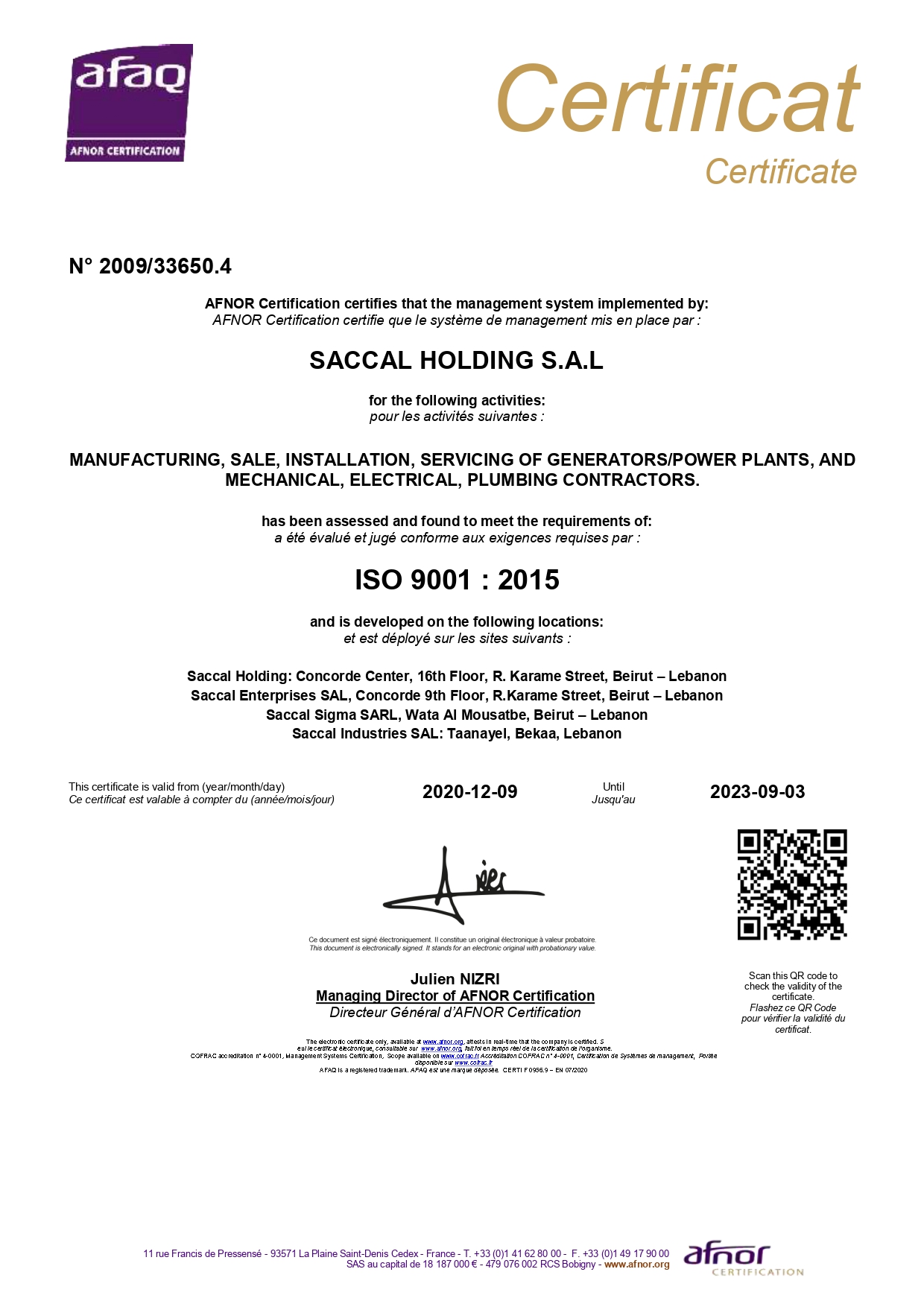 Vision & Mission
Through our commitment to high quality standards. In addition to our extensive research paired the continuous development and updating of our resources. We aim at ensuring customer satisfaction by providing our clients with the most reliable and cost-effective diesel generators and services. While also ensuring the best quality, performance, and after-sales support.
Our ultimate aim is to meet and exceed our clients' expectations by excelling in the electric power generation and conversion solutions we offers.
80 YEARS OF EXCELLENCE | Saccal Heritage
Our Heritage
Assad Saccal – The Story
Our story begins with engineer Asaad Toufic Saccal who was born in 1916 and founded SACCAL Group in 1944. Our origin can be traced back nearly 80 years to a small maintenance workshop with Alternator Maintenance and AC drive motors that made SACCAL Group what it is today.

However, the growth and development of the company did not always run smoothly and SACCAL Group owes its long heritage to an early culture of business ethics, innovation, and leadership. These traits have seen the company through times that have ruined stronger businesses.

In 1986, after SACCAL's founder has been deceased leaving a small business empire to his two inheritances; Maher Saccal who managed Saccal Sigma S.A.R.L. a company specialized in Power Generation Sector and Fahed Saccal who managed Saccal Systems S.A.L. a company specialized in UPS business. From the beginning it was obvious to Maher Saccal that the power generation sector needed to be restructured in order to satisfy the continuously growing needs of the market. Building on strengths, in 1995 Maher Saccal built the first power production factory in Lebanon, and was within 2 years able to launch a new company under the name SACCAL Enterprises S.A.L. which dealt with General Contracting and kept Saccal Sigma strictly for After-Sales services.

The beginning of the 21st century witnessed the birth of Saccal Holding S.A.L. which owns and manages SACCAL Sigma S.A.R.L specialized in after sales services, SACCAL Enterprises S.A.L. specialized in General Contracting, SACCAL Industries S.A.L. specialized in power generation, SACCAL Off-shore S.A.L. specialized in international operations, SACCAL Facility Management, specialized in property management, and lately Saccal & Saccal S.A.L. specialized in interior design.

Now 80 years of excellence, we're just getting started. Building on a track record of innovation and a vision proven, now more than ever, Saccal Group is fueled by the pioneering spirit that inspired its founders to continually improve the power industry.